Edward Phelps Allis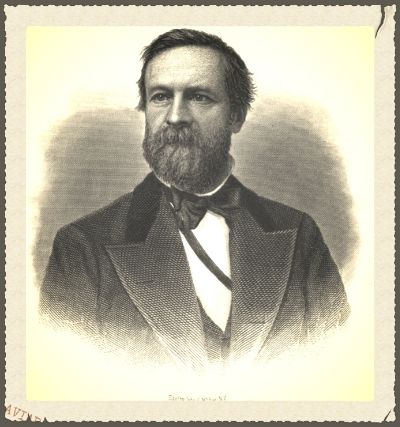 Edward P. Allis, the son of Jere and Mary Allis was born at Cazenovia, New York, May 12, 1824. He graduated from Union college, Schenectady, in 1845, his education having been with a view to the practice of law. However, his tastes favored an active business life, and in 1846 he located at Milwaukee, where in connection with William Allen he opened a leather store at what is now 344 East Water Street. The firm of Allis & Allen continued till 1854, during which time it built a large tannery at Two Rivers, Wisconsin. In 1854 Mr. Allis sold out his interest in the firm and in connection with John P. McGregor engaged in the real estate and brokerage business. In 1861 he came into possession of the Reliance Works, as already stated, and from that time forward his business history is written in the history of the works.
In personal appearance Mr. Allis is of average height, rather slight, but very compactly and strongly built, and is capable of great physical endurance. He is quick in his motions, a rapid walker and his every action impresses one with the fact that he is firm of purpose and tireless in the pursuit of his business interests. He is quick to decide, relies upon his own judgment, has executive abilities of a high order, attends strictly to his business and expects everyone in his employ to do the same. He is quiet in manner, simple in his tastes and inclined to be reticent. He is a fine scholar, a great reader, and has always kept fully posted in all scientific, mechanical and political matters. In political faith Mr. Allis is a Republican and in full sympathy with that party, except upon the currency question. In this he believes in the greenback policy, as formulated by Henry C. Carey, and in 1887 headed the ticket of the Greenback party of Wisconsin as their candidate for governor. In his domestic relations Mr. Allis has been as fortunate as in his business life. In 1848 he married Margaret M. Watson of Geneva, New York. Mrs. Allis is a woman of much force of character, of superior attainments and great energy, and has been a help-mate in every sense of the word. They have a large family, and it would be hard to find a happier household.
By-Albert Hoppin


Hoppin, Albert. "Edward P. Allis and His Life Work."

 
Magazine of Western History, 1887, 85-95Google Books.

 
http://books.google.com/books?id=rPQOAAAAYAAJ&dq=%22Reliance%20Works%22%20Allis&pg=PA85#v=onepage&q&f=false